Description
Capture the essence of a historical London landmark with the LEGO® Architecture 21045 Trafalgar Square set. Named in honor of Lord Horatio Nelson following his 1805 naval victory over Napoleon, the square has since become a popular tourist attraction and preferred location for political and community gatherings. This detailed LEGO interpretation depicts the domed National Gallery complete with columned facade, Nelson's Column flanked by 4 lions, the square's famous fountains and 4 sculpture plinths. The sections at the rear of the National Gallery structure can be removed for access to a detailed interior with brick-built statue and paintings. Tree-lined borders, ornate lampposts, 2 London buses, 2 black cabs and a tiled baseplate depicting the square and surrounding roads complete the model. Finished with a decorative nameplate, this collectible building set delivers a highly satisfying building experience to all with an interest in architecture, travel, history and design, and makes a truly iconic centerpiece for the home or office. 
LEGO® Architecture interpretation of the real-world London landmark, Trafalgar Square.
Features the National Gallery, Nelson's Column flanked by 4 lions, 2 fountains, 4 sculpture plinths, 10 trees, 6 lampposts, and a tiled baseplate depicting the square and road areas complete with 2 London buses and 2 black cabs.
The included booklet contains information about the architecture and history of each structure, as well as historical facts about Trafalgar Square and its architectural heritage. (English language only. Other languages available for download at LEGO.com/architecture).
Includes a decorative Trafalgar Square nameplate.
LEGO® Architecture celebrates the world of architecture through the medium of the LEGO building brick and is developed for all with an interest in travel, architecture, history and design.
This set includes over 1,190 pieces.
Enjoy a pleasantly challenging and rewarding building experience with this LEGO® Architecture set.
Measures over 4" (12cm) high, 9" (24cm) wide and 7" (20cm) deep.
Customer Reviews
Write a Review
Ask a Question
Filter Reviews:
LEGO
trip
London
anyone
jock
fans
fuss transaction
display
birthday
grandchildren
11/08/2021
Jack S.

Australia
I recommend this product
Perfect scale with perfect detail!
I bought this item for myself as I had a UK trip planned but unfortunately was unable to travel this year. This set has outstanding detail for it's size, everything from the little black London cabs to the double decker red buses! As far as shelf presence goes this is now the centre piece for my Lego Architecture builds and looks fantastic alongside them. I recommend this for anyone aspiring for a visit to London or even fans of intricate and detailed Lego builds.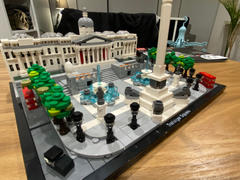 12/04/2021
Dan D.

Australia
I recommend this product
All the Browny Points!!
Imagine my predicament - its the weekend before my wife's birthday and no presents have been organised. Then I remember that she mentioned a liking for Lego architecture and we just finished showing the kids our photos from our long ago trip to London. That's when Inspiration hit and I jumped online, found Myhobbies and then instantly found Trafalgar Square Architecture kit. I snapped that thing up quicker than my kids on a PS Controller and paid for express postage, hoping like heck that all the stars would line up and we would receive the package in time. Lo, the electronic mail man delivered the best news the next day; that the package was already on its way and should arrive later in the week. Then the glorious man in the Aust Post uniform arrived at our door THE VERY NEXT DAY, delivering the goods. The minister for finance was more than pleased upon opening her gift, and all the browny points were earned with her thinking that some long and arduous task had been performed to get her such a thoughtful gift.
25/08/2020
Anita Z.

Australia
I recommend this product
A work of art!
My 12 year old loved building it. It's fun and not too complex. Now it's on display...until the next one.
27/07/2020
sarah j.

Australia
I recommend this product
Trafalgar Square
LEGO arrived promptly and it was a great price!!!
08/07/2020
Elizabeth P.

Australia
I recommend this product
Wonderful
Always great to deal with. Easy no fuss transaction
Payment & Security
Your payment information is processed securely. We do not store credit card details nor have access to your credit card information.