Description
Finish Lunar New Year celebrations in playful style with this colorful LEGO® Spring Lantern Festival building toy for kids (80107). It features a brick-built Asian garden with moon gates, pavilion, pond and bridge, and an ox lantern, illuminated by a LEGO light brick, to mark the Year of the Ox. Great for building solo or with family and friends, the garden is decorated with buildable lanterns and traditional Chun Lian banners. It can be rebuilt into an alternative layout, too. Beautiful display, endless play Bring this stunning centerpiece to life with 7 civilian minifigures, plus accessories such as a buildable bubble tea and elements such as a rabbit lantern, Tang Yuan rice ball, mobile phone and selfie stick, plus a minifigure-shaped lantern to welcome visitors at the entrance. Gifts with a wow factor LEGO Traditional Festival sets make delightful gift toys for kids and anyone interested in Asian culture, offering fascinating building challenges and hours of creative play.
Recreate the decorative splendor of Spring Lantern Festival and celebrate Lunar New Year with this LEGO® toy playset for kids (80107), featuring a beautiful, buildable traditional garden.
Includes 7 civilian minifigures, a minifigure-shaped lantern. accessory elements such as a rabbit lantern, camera, rice ball, bowl, spoon, mobile phone and selfie stick, plus a buildable bubble tea.
The garden has moon gates, pavilion, bridge and pond with frog and koi fish figures, buildable bamboo trees, ox lantern with LEGO® light brick, buildable lanterns and traditional Chun Lian banners.
This 1,793-piece LEGO® set makes an awesome Lunar New Year gift for kids aged 8 and up. It's ideal for solo building and play or sharing the creative fun with family and friends.
The model measures over 7.5 in. (19 cm) high, 15 in. (38 cm) wide and 10 in. (25 cm) deep. Inspired by a traditional Asian Garden, this unique toy makes a striking, festive centerpiece.
The garden model can be reconfigured into an alternative layout and combines brilliantly with LEGO® Creator Expert modular buildings.
Thinking of buying this for someone new to LEGO® sets? No worries. It comes with clear, step-by-step instructions so they can enjoy the whole building experience.
Collectible LEGO® Traditional Festival building toys offer fascinating building challenges and role-play fun for anyone interested in Asian culture, and they make wonderful display models.
Since 1958 LEGO® building bricks havemet the highest industry standards, which ensures they connect consistently and simply.
LEGO® bricks are dropped, heated, twisted and tested in almost every way imaginable so you can be certain that each toy playset meets the highest safety standards.
Customer Reviews
Write a Review
Ask a Question
Filter Reviews:
flowers
territory haha
arrangement
stamp
butt vase
vase
snap dragons
woman
bunch
pleasure
15/04/2021
Rebecca W.

Australia
I recommend this product
Set of my dreams
Just putting it out there...I'm the only girl in my family. I buy rad Lego sets for my husband and son ALL THE TIME. Well...this time, it was mamas turn haha. I have never in my life been so drawn to a Lego set. As soon as I saw it I HAD to have it! The price was really good too! When I received the set, it was packaged beautifully. The box was in perfect condition. It was an absolute pleasure to build and I enjoyed every minute of my afternoon putting these beautifully coloured and designed flowers together. I had assumed the flowers would be flimsy and require kraggle, but I was wrong. My favourite flowers in the set are the snap dragons and the purple flower. They are just gorgeous! Unfortunately, this set does not come with a vase, but thankfully I had a spare butt vase lying around. No joke, the vase is in the shape of a woman's butt. It is perfect as this floral arrangement in a butt vase is like, my womanly stamp on the house. I have marked my territory haha. It should however be noted that these are an absolute pain in the a** to arrange as the stems are obviously ridgid, unlike real flowers. Worth it though, and I 100% recommend this set.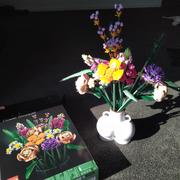 02/03/2021
Shannon &.

Australia
Perfect Forever Flower Bouquet
Loving this flower bouquet I got for Valentine's Day ❤️ Flowers that will live forever and ever...
25/02/2021
Leoni C.

Australia
Flower Bouquet
I will always have flowers
24/02/2021
Sharon L.

Australia
Perfect!!
Love this logo flower! It's amazing and make me feel so delighted!!
21/01/2021
Stephen T.

Australia
Lego Flower Bouquet
This is a amazing little set to build and you can easily display them like a real bunch of flowers or add to it with another Flower Set.
Payment & Security
Your payment information is processed securely. We do not store credit card details nor have access to your credit card information.